I've used a lot of different small form factor machines over the years, from the Raspberry Pi to used ebay thin clients. All of them are good at some things. But when Icewhale sent over their x86-based Zimaboard for me to take a look at, I've been impressed with the flexibility it has for me to test new software and hardware in a relatively cheap way. It's not spectacular at any one thing, but it's versatile enough that it's a great foundation for so many of my projects.
So what's good about the Zimaboard: -Reasonable price for an x86-based single board computer -Being x86 based is a huge advantage for running the usual homelab software -Enough eMMC for a full operating system, enough for many use cases without additional storage -Dual NICs are a huge benefit to a lot of projects -Low power 12V input -CasaOS is open-source and very easy to get started with if you want the basics for your homelab without a lot of fuss
A few negatives: -PCIe slot is in a bit of a weird position, slot covers don't fit well and hit the case, I ended up taking them all off -Not enough USB ports if you want to actually use it as a desktop (or install and OS via a GUI) -The ZimaBoard itself is beautiful, but when you add cards and SSDs, it can look very hacked together.
Contents:
Video⌗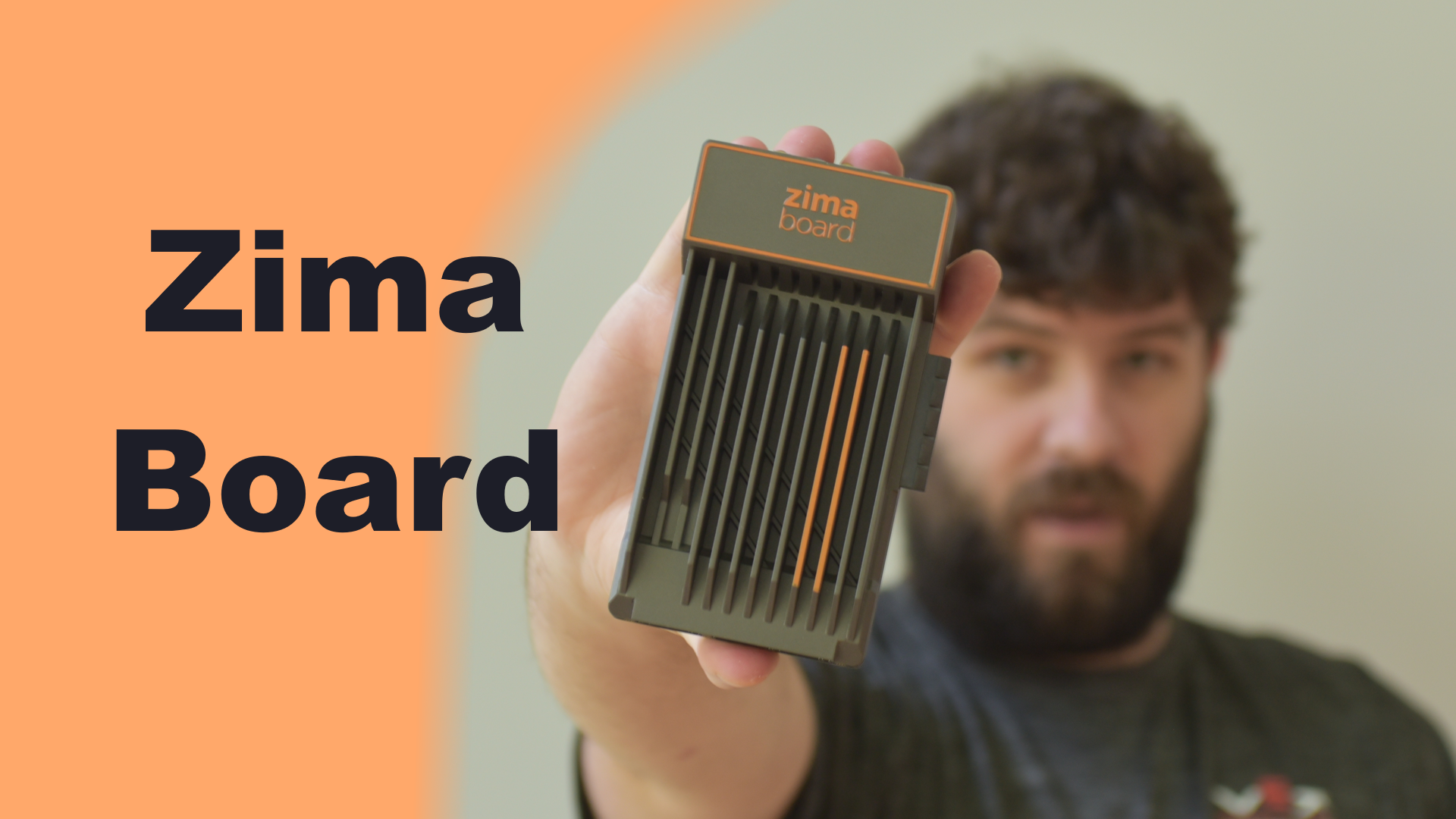 lscpu⌗
Architecture

:                    

x86_64




CPU op-mode(s)

:                  

32

-

bit, 64-bit




Address sizes

:                   

39

 

bits physical, 48 bits virtual




Byte Order

:                      

Little Endian




CPU(s)

:                          

4




On-line CPU(s) list

:             

0-3




Vendor ID

:                       

GenuineIntel




Model name

:                      

Intel(R) Celeron(R) CPU N3450 @ 1.10GHz




CPU family

:                      

6




Model

:                           

92




Thread(s) per core

:              

1




Core(s) per socket

:              

4




Socket(s)

:                       

1




Stepping

:                        

9




CPU max MHz

:                     

2200.0000




CPU min MHz

:                     

800.0000




BogoMIPS

:                        

2188.80




Flags

:                           

fpu vme de pse tsc msr pae mce cx8 apic sep mtrr pge mca cmov pat pse36 clflush dts acpi mmx fxsr sse sse2 ss ht tm pbe syscall nx pdpe1gb rdtscp lm constant_tsc art arch_perfmon pebs bts rep_good nopl xtopology tsc_reliable nonstop_tsc cpuid aperfmperf tsc_known_freq pni pclmulqdq dtes64 monitor ds_cpl vmx est tm2 ssse3 sdbg cx16 xtpr pdcm sse4_1 sse4_2 x2apic movbe popcnt tsc_deadline_timer aes xsave rdrand lahf_lm 3dnowprefetch cpuid_fault cat_l2 ibrs ibpb stibp tpr_shadow vnmi flexpriority ept vpid ept_ad fsgsbase tsc_adjust smep erms mpx rdt_a rdseed smap clflushopt intel_pt sha_ni xsaveopt xsavec xgetbv1 xsaves dtherm ida arat pln pts md_clear arch_capabilities




Virtualization

:                  

VT-x




L1d cache

:                       

96

 

KiB (4 instances)




L1i cache

:                       

128

 

KiB (4 instances)




L2 cache

:                        

2

 

MiB (2 instances)




NUMA node(s)

:                    

1




NUMA node0 CPU(s)

:               

0-3




Vulnerability Itlb multihit

:     

Not affected




Vulnerability L1tf

:              

Not affected




Vulnerability Mds

:               

Not affected




Vulnerability Meltdown

:          

Not affected




Vulnerability Mmio stale data

:   

Not affected




Vulnerability Retbleed

:          

Not affected




Vulnerability Spec store bypass

: 

Not affected




Vulnerability Spectre v1

:        

Mitigation; usercopy/swapgs barriers and __user pointer sanitization




Vulnerability Spectre v2

:        

Mitigation; Retpolines, IBPB conditional, IBRS_FW, STIBP disabled, RSB filling, PBRSB-eIBRS Not affected




Vulnerability Srbds

:             

Not affected




Vulnerability Tsx async abort

:   

Not affected



lspci⌗
00:00.0 Host bridge

: 

Intel Corporation Celeron N3350/Pentium N4200/Atom E3900 Series Host Bridge (rev 0b)




00:02.0 VGA compatible controller

: 

Intel Corporation HD Graphics 500 (rev 0b) (prog-if 00 [VGA controller])




00:0e.0 Audio device

: 

Intel Corporation Celeron N3350/Pentium N4200/Atom E3900 Series Audio Cluster (rev 0b)




00:0f.0 Communication controller

: 

Intel Corporation Celeron N3350/Pentium N4200/Atom E3900 Series Trusted Execution Engine (rev 0b)




00:12.0 SATA controller

: 

Intel Corporation Celeron N3350/Pentium N4200/Atom E3900 Series SATA AHCI Controller (rev 0b) (prog-if 01 [AHCI 1.0])




00:13.0 PCI bridge

: 

Intel Corporation Celeron N3350/Pentium N4200/Atom E3900 Series PCI Express Port A

 

#1 (rev fb) (prog-if 00 [Normal decode])




00:14.0 PCI bridge

: 

Intel Corporation Celeron N3350/Pentium N4200/Atom E3900 Series PCI Express Port B

 

#1 (rev fb) (prog-if 00 [Normal decode])




00:14.1 PCI bridge

: 

Intel Corporation Celeron N3350/Pentium N4200/Atom E3900 Series PCI Express Port B

 

#2 (rev fb) (prog-if 00 [Normal decode])




00:15.0 USB controller

: 

Intel Corporation Celeron N3350/Pentium N4200/Atom E3900 Series USB xHCI (rev 0b) (prog-if 30 [XHCI])




00:1c.0 SD Host controller

: 

Intel Corporation Celeron N3350/Pentium N4200/Atom E3900 Series eMMC Controller (rev 0b) (prog-if 01)




00:1f.0 ISA bridge

: 

Intel Corporation Celeron N3350/Pentium N4200/Atom E3900 Series Low Pin Count Interface (rev 0b)




00:1f.1 SMBus

: 

Intel Corporation Celeron N3350/Pentium N4200/Atom E3900 Series SMBus Controller (rev 0b)




02:00.0 Ethernet controller

: 

Realtek Semiconductor Co., Ltd. RTL8111/8168/8411 PCI Express Gigabit Ethernet Controller (rev 15)




03:00.0 Ethernet controller

: 

Realtek Semiconductor Co., Ltd. RTL8111/8168/8411 PCI Express Gigabit Ethernet Controller (rev 15)



vainfo⌗
vainfo: VA-API version

: 

1.14

 

(libva 2.12.0)




vainfo: Driver version

: 

Intel iHD driver for Intel(R) Gen Graphics - 22.3.1 ()




vainfo

: 

Supported profile and entrypoints


      

VAProfileMPEG2Simple            :	VAEntrypointVLD


      

VAProfileMPEG2Main              :	VAEntrypointVLD


      

VAProfileH264Main               :	VAEntrypointVLD


      

VAProfileH264Main               :	VAEntrypointEncSliceLP


      

VAProfileH264High               :	VAEntrypointVLD


      

VAProfileH264High               :	VAEntrypointEncSliceLP


      

VAProfileJPEGBaseline           :	VAEntrypointVLD


      

VAProfileJPEGBaseline           :	VAEntrypointEncPicture


      

VAProfileH264ConstrainedBaseline:	VAEntrypointVLD


      

VAProfileH264ConstrainedBaseline:	VAEntrypointEncSliceLP


      

VAProfileVP8Version0_3          :	VAEntrypointVLD


      

VAProfileHEVCMain               :	VAEntrypointVLD


      

VAProfileHEVCMain10             :	VAEntrypointVLD


      

VAProfileVP9Profile0            :	VAEntrypointVLD