I get asked a lot about what hardware I recommend for homelabs and home servers. It's a very difficult question since it depends on what exactly you want to get out of your setup. But, whatever you choose, I'm starting a new series where I'll setup all of the commonly requested home server software in a single box. Since I want to try this on both used and new hardware, here's a low cost NAS you can buy brand-new and run your own software on it!
A few basics of this guy:
Terramaster F2-223 - F2 means 2-slot cube form factor, -2 is dual core, 23 is the 'new' series (at least when this video was produced)
Intel Celeron N4505 dual core
Dual DDR4 sodimm slots, comes with 1x 4G stick and one easily accessible empty slot. I added an 8G stick to bring it up to 12G so I can do virtualization
Dual Intel I225-v3 2.5G NICs
A few upsides:
They are pretty cheap for the HW you get new
Mix of SATA and NVMe storage options, for bulk storage and high speed storage
x86 processor so it can run Linux based OSes well
Intel I225 2.5Gbe NIC is considered 'good' compared to Realtek chipsets, and widely compatible across OSes such as Linux and BSD
A few downsides:
The included software seems to want to install itself on your drive as the boot disk, but I was unable to get it to do so in a short amount of time so I gave up and installed Proxmox (which I was planning on doing anyway)
The internal USB seems to perpetually change some BIOS/UEFI settings back to default, removing it fixed all of the issues I had getting it to boot Proxmox properly
The second RAM stick is harder to get to, although I don't think you realistically need more than 12G of RAM to go with this much CPU power. Maybe it would matter more for the quad-core version
This video is part of the Ultimate Home Server Megaproject
Contents⌗
Video⌗
Click on the thumbnail to watch the video: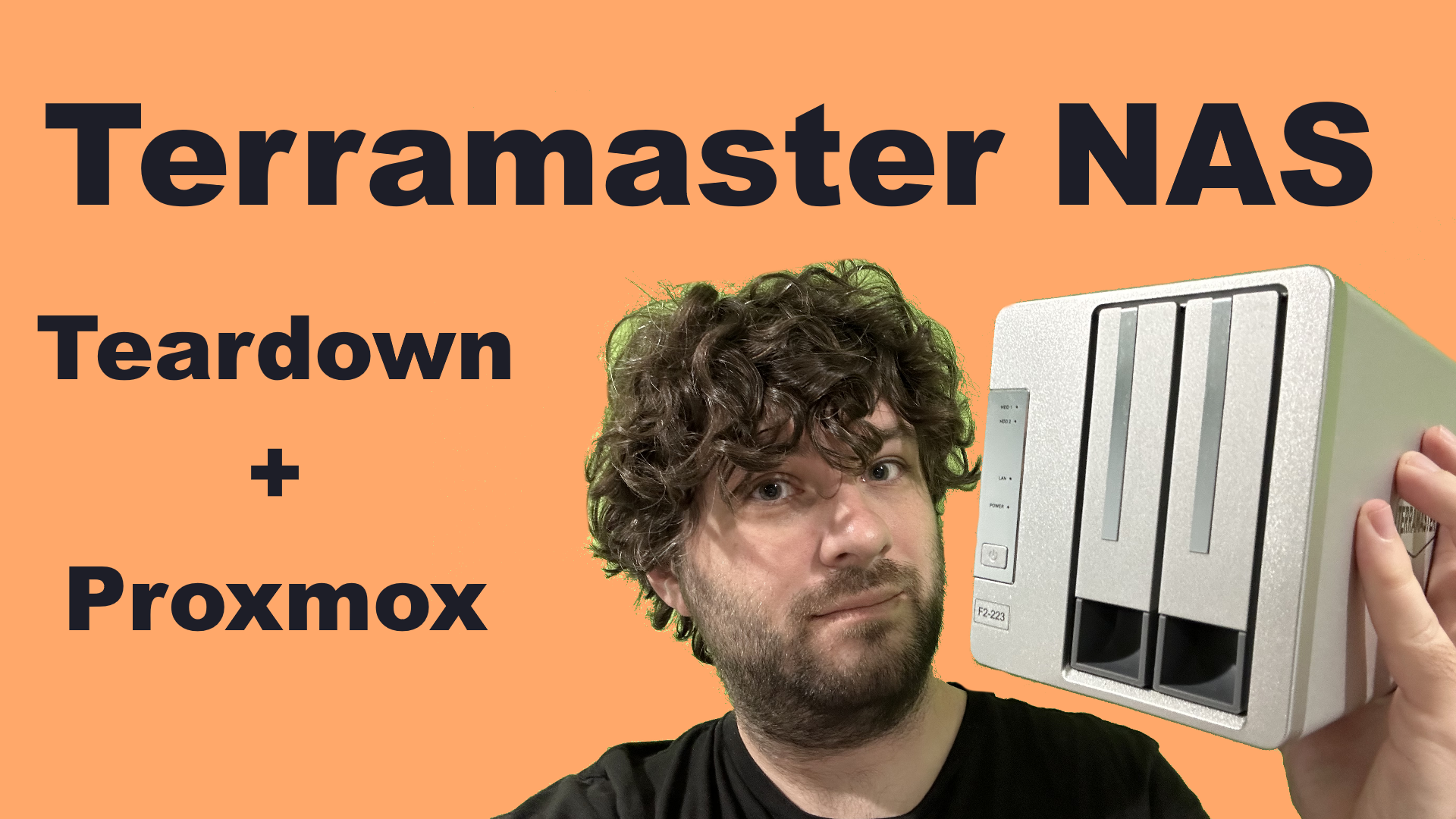 Links⌗
Some links to products may be affiliate links, which may earn a commission for me.
Hardware Information⌗
lscpu⌗
Architecture

:                    

x86_64




CPU op-mode(s)

:                  

32

-

bit, 64-bit




Byte Order

:                      

Little Endian




Address sizes

:                   

39

 

bits physical, 48 bits virtual




CPU(s)

:                          

2




On-line CPU(s) list

:             

0

,

1




Thread(s) per core

:              

1




Core(s) per socket

:              

2




Socket(s)

:                       

1




NUMA node(s)

:                    

1




Vendor ID

:                       

GenuineIntel




CPU family

:                      

6




Model

:                           

156




Model name

:                      

Intel(R) Celeron(R) N4505 @ 2.00GHz




Stepping

:                        

0




CPU MHz

:                         

2899.952




CPU max MHz

:                     

2900.0000




CPU min MHz

:                     

800.0000




BogoMIPS

:                        

3993.60




Virtualization

:                  

VT-x




L1d cache

:                       

64

 

KiB




L1i cache

:                       

64

 

KiB




L2 cache

:                        

1.5

 

MiB




L3 cache

:                        

4

 

MiB




NUMA node0 CPU(s)

:               

0

,

1




Vulnerability Itlb multihit

:     

Not affected




Vulnerability L1tf

:              

Not affected




Vulnerability Mds

:               

Not affected




Vulnerability Meltdown

:          

Not affected




Vulnerability Mmio stale data:   Vulnerable

: 

Clear CPU buffers attempted, no microcode; SMT disabled




Vulnerability Retbleed

:          

Not affected




Vulnerability Spec store bypass

: 

Mitigation; Speculative Store Bypass disabled via prctl




Vulnerability Spectre v1

:        

Mitigation; usercopy/swapgs barriers and __user pointer sanitization




Vulnerability Spectre v2

:        

Mitigation; Enhanced IBRS, IBPB conditional, RSB filling, PBRSB-eIBRS Not affected




Vulnerability Srbds:             Vulnerable

: 

No

 

microcode




Vulnerability Tsx async abort

:   

Not affected




Flags

:                           

fpu vme de pse tsc msr pae mce cx8 apic sep mtrr pge mca cmov pat pse36 clflush dts acp


                                 

i mmx fxsr sse sse2 ss ht tm pbe syscall nx rdtscp lm constant_tsc art arch_perfmon peb


                                 

s bts rep_good nopl xtopology nonstop_tsc cpuid aperfmperf tsc_known_freq pni pclmulqdq


                                  

dtes64 monitor ds_cpl vmx est tm2 ssse3 sdbg cx16 xtpr pdcm sse4_1 sse4_2 x2apic movbe


                                  

popcnt tsc_deadline_timer aes xsave rdrand lahf_lm 3dnowprefetch cpuid_fault epb cat_l


                                 

2

 

cdp_l2 ssbd ibrs ibpb stibp ibrs_enhanced tpr_shadow vnmi flexpriority ept vpid ept_a


                                 

d fsgsbase tsc_adjust smep erms rdt_a rdseed smap clflushopt clwb intel_pt sha_ni xsave


                                 

opt xsavec xgetbv1 xsaves split_lock_detect dtherm ida arat pln pts hwp hwp_notify hwp_


                                 

act_window hwp_epp hwp_pkg_req umip waitpkg gfni rdpid movdiri movdir64b md_clear flush


                                 

_l1d arch_capabilities



lspci⌗
00:00.0 Host bridge

: 

Intel Corporation Device 4e14




00:02.0 VGA compatible controller

: 

Intel Corporation Device 4e55 (rev 01)




00:04.0 Signal processing controller

: 

Intel Corporation Device 4e03




00:08.0 System peripheral

: 

Intel Corporation Device 4e11




00:14.0 USB controller

: 

Intel Corporation Device 4ded (rev 01)




00:14.2 RAM memory

: 

Intel Corporation Device 4def (rev 01)




00:14.5 SD Host controller

: 

Intel Corporation Device 4df8 (rev 01)




00:16.0 Communication controller

: 

Intel Corporation Device 4de0 (rev 01)




00:17.0 SATA controller

: 

Intel Corporation Device 4dd3 (rev 01)




00:1c.0 PCI bridge

: 

Intel Corporation Device 4db8 (rev 01)




00:1c.1 PCI bridge

: 

Intel Corporation Device 4db9 (rev 01)




00:1c.5 PCI bridge

: 

Intel Corporation Device 4dbd (rev 01)




00:1f.0 ISA bridge

: 

Intel Corporation Device 4d87 (rev 01)




00:1f.3 Audio device

: 

Intel Corporation Device 4dc8 (rev 01)




00:1f.4 SMBus

: 

Intel Corporation Device 4da3 (rev 01)




00:1f.5 Serial bus controller [0c80]

: 

Intel Corporation Device 4da4 (rev 01)




01:00.0 Ethernet controller

: 

Intel Corporation Ethernet Controller I225-V (rev 03)




02:00.0 Ethernet controller

: 

Intel Corporation Ethernet Controller I225-V (rev 03)




03:00.0 Non-Volatile memory controller

: 

Samsung Electronics Co Ltd NVMe SSD Controller SM961/PM961/SM963



vainfo⌗
libva info

: 

VA-API version 1.10.0




libva info

: 

Trying to open /usr/lib/x86_64-linux-gnu/dri/iHD_drv_video.so




libva info

: 

Found init function __vaDriverInit_1_10




libva info

: 

va_openDriver() returns 0




vainfo: VA-API version

: 

1.10

 

(libva 2.10.0)




vainfo: Driver version

: 

Intel iHD driver for Intel(R) Gen Graphics - 21.1.1 ()




vainfo

: 

Supported profile and entrypoints


      

VAProfileNone                   :	VAEntrypointVideoProc


      

VAProfileNone                   :	VAEntrypointStats


      

VAProfileMPEG2Simple            :	VAEntrypointVLD


      

VAProfileMPEG2Main              :	VAEntrypointVLD


      

VAProfileH264Main               :	VAEntrypointVLD


      

VAProfileH264Main               :	VAEntrypointEncSliceLP


      

VAProfileH264High               :	VAEntrypointVLD


      

VAProfileH264High               :	VAEntrypointEncSliceLP


      

VAProfileJPEGBaseline           :	VAEntrypointVLD


      

VAProfileJPEGBaseline           :	VAEntrypointEncPicture


      

VAProfileH264ConstrainedBaseline:	VAEntrypointVLD


      

VAProfileH264ConstrainedBaseline:	VAEntrypointEncSliceLP


      

VAProfileVP8Version0_3          :	VAEntrypointVLD


      

VAProfileHEVCMain               :	VAEntrypointVLD


      

VAProfileHEVCMain               :	VAEntrypointEncSliceLP


      

VAProfileHEVCMain10             :	VAEntrypointVLD


      

VAProfileHEVCMain10             :	VAEntrypointEncSliceLP


      

VAProfileVP9Profile0            :	VAEntrypointVLD


      

VAProfileVP9Profile1            :	VAEntrypointVLD


      

VAProfileVP9Profile2            :	VAEntrypointVLD


      

VAProfileVP9Profile3            :	VAEntrypointVLD


      

VAProfileHEVCMain422_10         :	VAEntrypointVLD


      

VAProfileHEVCMain444            :	VAEntrypointVLD


      

VAProfileHEVCMain444            :	VAEntrypointEncSliceLP


      

VAProfileHEVCMain444_10         :	VAEntrypointVLD


      

VAProfileHEVCMain444_10         :	VAEntrypointEncSliceLP